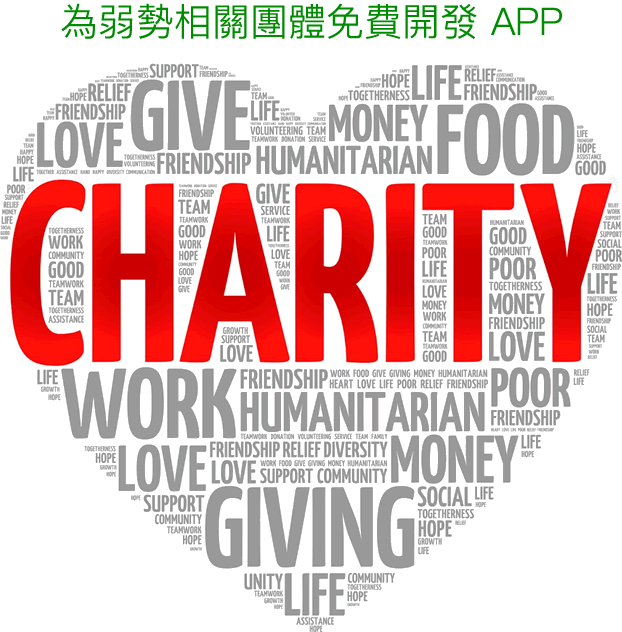 Targets:All non-profit organizations associated with minority, charity and public welfare
I. Purpose
The act is initiated by the thought to contribute our talent back to the society through providing free services to minority, charity and public welfare related organizations.  This free service includes developing and completing all systems needed and requested by disadvantaged groups; the systems are not only environmental-friendly but also highly sufficient so that all tasks can be done easily and quickly than ever.  Thus, it allows more time to be saved to serve more needed.  Through such small act from us, we expect to get more public attention and everyone can contribute what they have been given to the society.
II.Targets
All non-profit organizations associated with minority, charity and public welfare
III、Application conditions
1. To be eligible for this service, all applicants must be qualified for at least one of " Target " requirements.。
2. We must first fully understand your requests, and a personnel will be assigned to you; after turning in all information including current paper works or Excel, and discussing thoroughly about procedures, we will help you to transform all of them into highly-sufficient digital systems, which support the use of Mac、PC、iPhone、iPad and viewers。
3. all applicants shall be aware of it, that since the purpose of this service is basically for a unit and not for a personal use,minimum of 5 users is a must to apply for such service; 。
4. All development of the needed systems is free of charge except the cost of FileMaker App for each user; that is, we have customized your system for free, but applicants have to pay for the computers and necessary apps to run the system on their own. 。
5. After the system is running, we will continue to maintain this developed system through our remote connection with no extra cost to you at all, as long as your unit is still running such social services 。
6. All systems will be designed, developed by our general supervisor with satisfaction and quality guaranteed, if 1) the applicant must be eligible for one of requirements, 2) all requirements and contents of the system are based on both agreement.
IV. What capabilities of this App can do?
We must have all been through these-using either papers to record contents related to people, events and objects "every time," or Excel for data calculation "every time;" day after day, weeks after weeks, energy and time were constantly wasted and still got you nowhere, nothing valuable and usable.  However, here we can not only digitalize your data, but also allow the system to perform automatic integration, to be used on multiple platforms by users, and complete the mission outside in a few seconds through continual accumulation of each record, statistic and automatic calculation. 99% of all similar functions related to database can be accomplished by our App; unlike those hard-to-use apps on the shelf, ours is very handy because we will customize it specifically just for your demands.

 
V、How to Apply
If you are qualified and willing to cooperate with conditions mentioned above, please fill out the application below and we will have our personnel to contact with you for further instructions.  Apply with Sincerity !