請注意:本頁內容由正洋保留修改、維護與更新,不另通知,您可隨時回本頁閱讀謝謝您。
Overview
FileMaker Server supports 5 or more persons to share databases, or to use the database solutions created with FileMaker Pro/Pro Advanced in a browser (WebDirect). FileMaker Server enables to manage multiple databases at one time, also manage users' login status, database automatic backup and log files, etc.
FileMaker Server cannot be used for database design, but for connection and server side administration.
When and how to use
5 or more persons to share databases
Enable users to access databases in browsers,and the newest version even supports the latest Android tablets. (No need to learn any HTML programing code. It can do HTML 5 conversion on server side.)
Enable scheduled live backups for databases
Enable ODBC / JDBC on server side
Set privileges for users and groups to access server
Control and validate connection numbers
Send emails to the administrator if an error has occurred
Set to start plug-in on server side
Set to connect via Direct Service
Set to enable PHP / XML / FileMaker WebDirect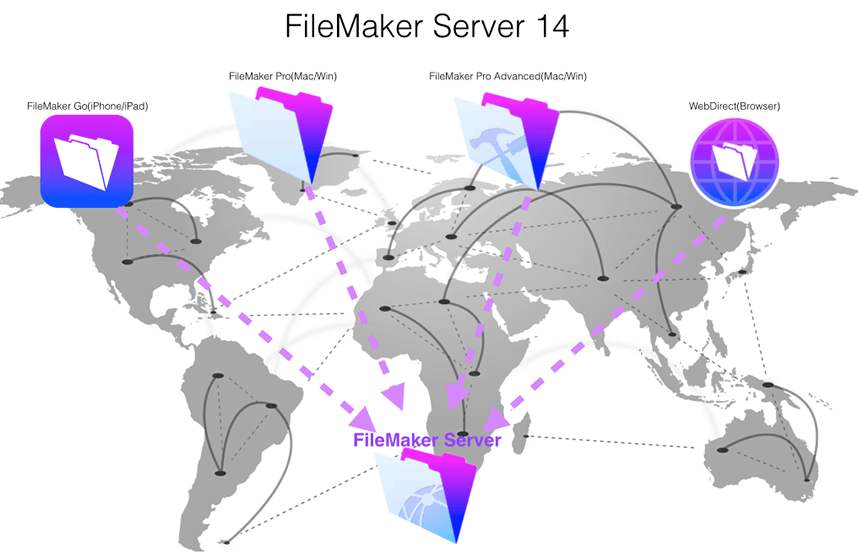 For multi-user connections, such as transnational joint operation practices of enterprises or departments.
What's new in FileMaker Server 14
Reconnect to server: If the network connection or the server goes down FileMaker Pro or FileMaker Go automatically reconnects to FileMaker Server when it's available again, and places the users right back where they were when the disconnection took place.
Enhanced security: It's required to provide a 4-digit PIN password to complete installation. In case you forget the Administration password to login, you may reset it with PIN.
Standby server: The new standby server option ensures higher availability of your business data. If your primary server ever goes down, type in a set of commands via the Command Line Interface to switch over to the standby server. Data on the standby server is also included in your scheduled backups.
FileMaker Server 14 concurrent connections (from clients to server)
| Client connections | Officially tested | Theoretical value |
| --- | --- | --- |
| FileMaker Pro or Pro Advanced | 250 | No limits* |
| Custom Web Publishing (CWP)** | 200 | 2000 |
| FileMaker Go (iPad/iPhone)/WebDirect (browser) | 100 | 100 |
| ODBC/JDBC | 50 | No limits* |
* Maximum number of connections is limited by your hardware, network, database design and operating system.
** Multiple users can share a single CWP connection. CWP connections are based on simultaneous request events, rather than persistent connections.
Recommended operating system: we recommend to use Mac OS machine as server, which is far better in performance and maintenance than Windows.
Installation requirements (Operating system)
Windows Server 2012 R2 Standard Edition
Windows Server 2012 Standard Edition
Windows Server 2008 R2 SP1 Standard Edition, Enterprise Edition
OS X El Capitan 10.11
OS X Yosemite 10.10
OS X Mavericks 10.9
WebDirect-supported browsers
Desktop browser
Safari 8.x    
Chrome 38 or above
Internet Explorer 11.x    
Internet Explorer 10.x
Mobile browser
Mobile Safari 8.x (iOS 8.1)
Chrome 38 or above (Android 4.4.x)
Note: Above have passed tests by FileMaker Inc. Other browsers are possibly supported but not guaranteed officially.
Integrate with databases below
MS SQL Server 2008 R2
MS SQL Server 2012 SP1
MySQL 5.6 Community Edition (free)
Oracle 12c R1
Oracle 11g R2
How to start
Now start your FileMaker experience from:
1. Trial download

2. Starter Solutions
Download the 30-day trial version and start to create your solutions with the Starter Solutions.
3. Tutorial trainings
We offer step-by-step trainings on how to design and develop with FileMaker. Take our 9-hour courses to get the key skills. Provided in three sessions.

4. Custom development
If you want to get a professional to customize your solutions, we are glad to help.

5. Software purchase:
You may also buy any FileMaker product from us. Please fill out the form below and get our reply within 24 hours.
Previous article
FileMaker Go 15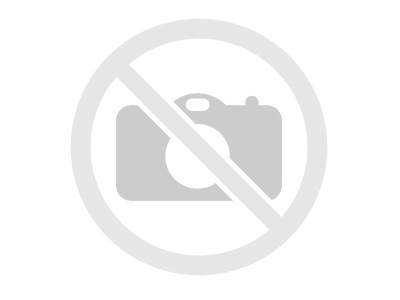 Next article
Script Step Compatibility