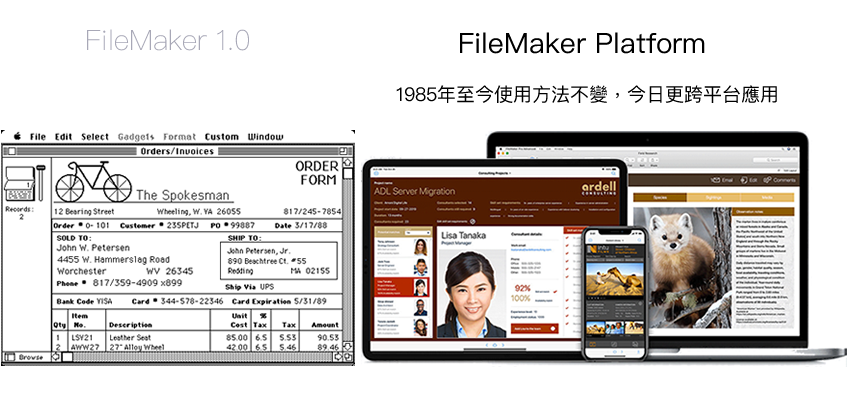 FileMaker Platform
Why do you use FileMaker
For small and medium enterprises, the traditional package software has a lot of limitations that make users complain, for instance: I've bought a package but only 50% functionalities are available, or even less; the interface is so unfriendly that it always painfully drags my feet on performing every single functionality. What's worse, some users always need to add or modify functions at any time, but they have to turn to developers for help, which is a waste on both time and resources. With users' requirements changing with each passing day, they prefer to perform the source programs on cellphones or tablets, but most of them suffer a lot from the limitations on support and development.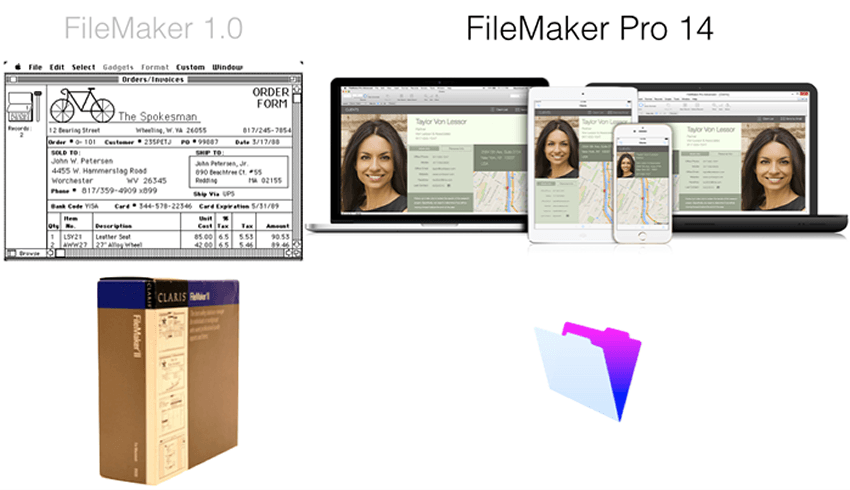 Unchanged for 30 years
- easy for common people
- improve forms based on users' requirements
- no limits on field length
- take advantage of computer memory
- specialized in interface design
- what you see is what you get ! 
 
FileMaker is originally designed to solve these problems.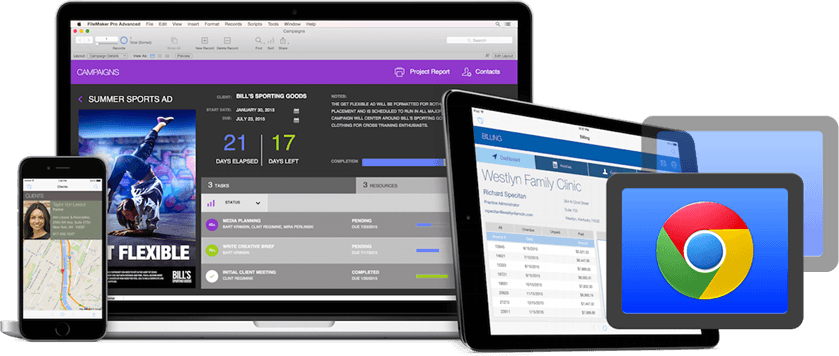 FileMaker Platform
FileMaker platform enables to run under almost all environments including Mac, Windows, iPad/iPhone (iOS) and browser, and avoids repeated design. Design only once and you may run it across FileMaker platform.
FileMaker platform is composed of four softwares, i.e. FileMaker Go, FileMaker Pro, FileMaker Pro Advanced and FileMaker Server respectively. They are designed for different operating systems and different quantities of users to share the database.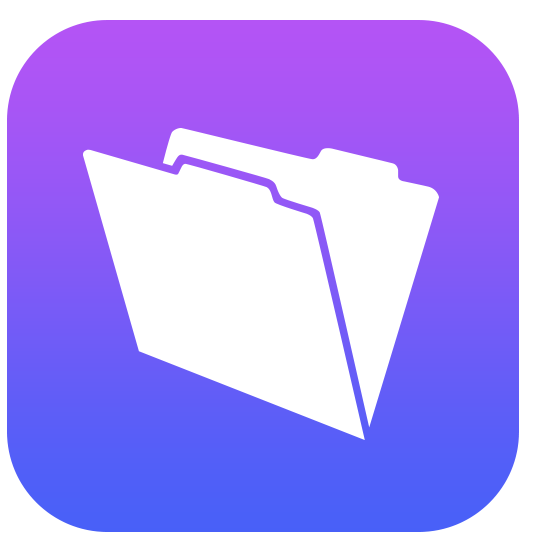 Run FileMaker Go on iPad and iPhone
FileMaker Go, a free app available on the App Store, provides a direct access to the host (FileMaker Pro/Advanced or FileMaker Server) to share the database application. If you do not want to connect to the host, you may run it locally to perform the tasks as required (such as CRM, ERP, and other related business systems).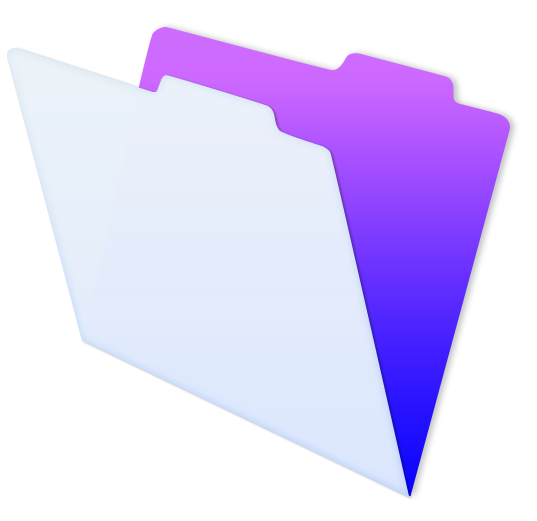 Run FileMaker Pro or FileMaker Pro Advanced on Mac or Windows
FileMaker Pro Advanced includes all the features of FileMake Pro Advanced plus a suite of advanced development and customization tools including error correction tool, custom menu, custom function and duplicate form, etc. Shown in image below. All features designed in Advanced can be used in FileMaker Pro. You may not design these feature in Pro, therefore we strongly recommend you to have at least one copy of Advance for your company and provide database access for up to 5 FileMaker Pro or FileMaker Go users. If you have more than 5 concurrent connections, you'll need FileMaker Server.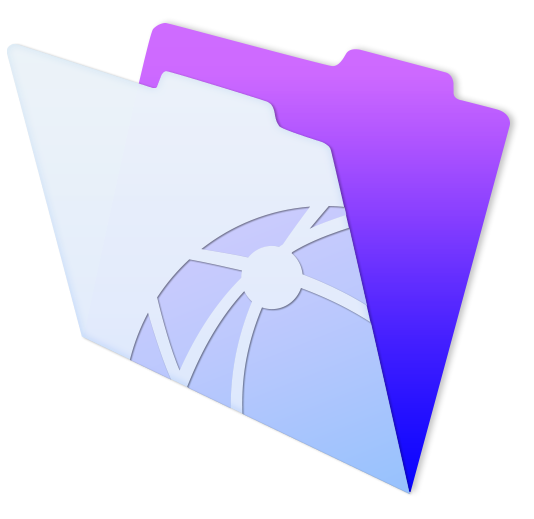 Use FileMaker Server to share database with more than 5 clients
FileMaker Server is the "Admin" of database, enabling more than 5 clients to share the database simultaneously (using FileMaker Pro/Advanced as the host for less than 5 clients). Without the function of form design, FileMaker Server only enables to manage the database on clients, such as backup, SSL encryption, as well as access via "browser", the exclusive feature of Server called WebDirect.
FileMaker platform features comparison
FileMaker Go
FileMaker Pro
FileMaker Pro Advanced
FileMaker Server
Use database
Use / design / share database

Use / design / share database

Share and manage database
Stand alone and connect to FileMaker Pro / Advanced / FileMaker Server

Stand alone

 and connect to FileMaker Pro / Advanced / FileMaker Server

Stand alone

 and connect to FileMaker Pro / Advanced / FileMaker Server

Share and manage database
Cannot share
5 clients connect simultaneously
5 clients connect simultaneously
No limit: Pro/Advanced, Up to 100 concurrent connections: iPad / iPhone / Browser
iOS 9.1 or above
Windows 7 / 8 / 8.1
OS X  10.10 / 10.11

Windows 7 / 8 / 8.1




OS X  10.10 / 10.11

Windows Server 2008 / 2012
OS X  10.10 / 10.11
15
15
15
15
Free
Consistent design
Since its first release in 1985, FileMaker has never changed the original purpose to design easy and quick applications that help users with their actual demands. What's important, the design tools interface has kept consistent in all versions, that is to say, if you are familiar with the previous versions, you may find the interfaces are quite similar in style (except some of the new features) and easy to use.
Are you ready? Download the free trial now.

Previous article
FileMaker 15 New Features

Next article
FileMaker 15 New Features