請注意:本頁內容由正洋保留修改、維護與更新,不另通知,您可隨時回本頁閱讀謝謝您。
| |
---
FileMaker VS. Excel
很多人問超過 30 年的 FileMaker,怎沒聽過? 並不意外,因為是您不知道,哪個才最適合您? 先帶您重點比一比,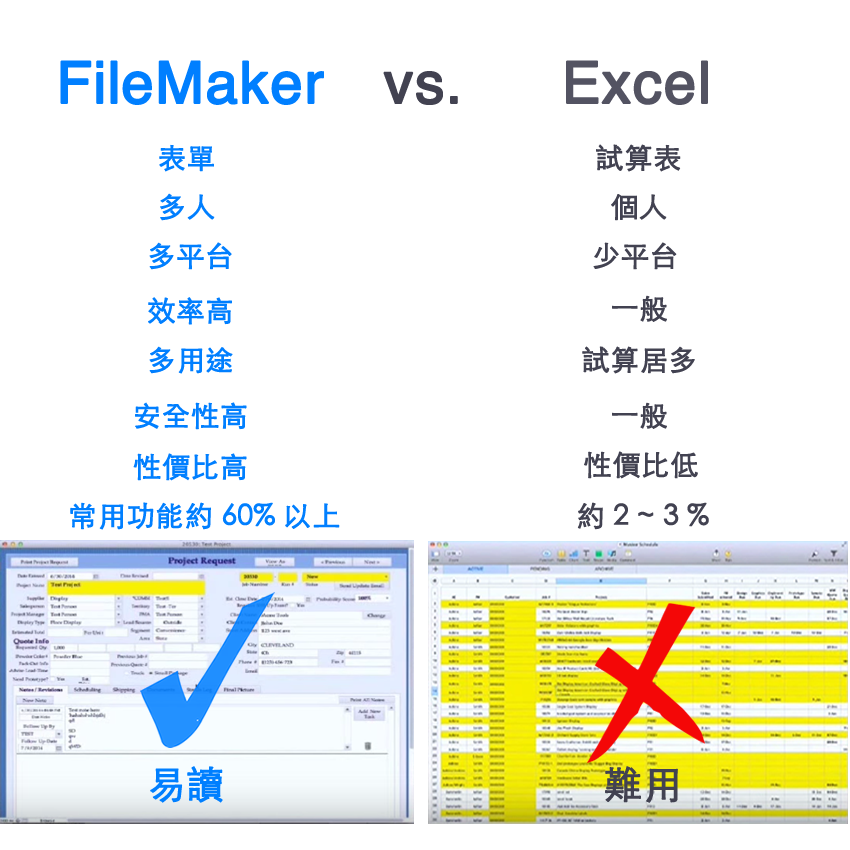 Overview
FileMaker Pro is a database software easy for design and use. It enables you to share databases with no more than 5 persons. FileMaker Server is recommended for a group of 5 or more persons.
It allows you not only to develop the necessary forms and build business systems easily for your companies, but modify and use flexibly. Developing with FileMaker shall be at least 5 times faster than with other languages or tools.
Applicable scope
Business applications such as Customer Relationship Management (CRM), Enterprise Resource Planning (ERP), Supply Chain Management (SCM), Hospital Information System (HIS), Knowledge Management (KM), Collaborative Cooperation Management, Assets and Warehouse Management, Custom Workflow Management, Operations and Sales, Industry Invoicing, Files Management, Business Intelligence, Mobile Business Application and Heterogeneous System Integration, etc.
Who can use
Programmers or non-programmers can use it to execute business tasks.
- Common users who have used Excel or Access shall love to use FileMaker.
- Database designers or administrators who have used MSSQL, Mysql and Oracle shall find FileMaker is much better.
- Developers who have learned programming languages including the earlier DBase, COBOL, Pascal and Fortran, as well as the current Java, Object C and .NET, shall find FileMaker is extremely easy for writing.
Environment support
FileMaker Pro 14 supports below operating systems:
Supported Operating Systems
Windows 10 Pro Edition and Windows 10 Enterprise Edition
Windows 8.1 Standard Edition
Windows 8.1 Pro Edition
Windows 8 Standard Edition
Windows 8 Pro Edition
Windows 7 SP1 Ultimate
Professional
Home Premium
OS X El Capitan v10.11
OS X Yosemite v10.10
OS X Mavericks v10.9
Supported languages
Worldwide English, French, Italian, German, Swedish, Japanese, Dutch, Spanish, Simplified Chinese, Korean, and Brazilian Portuguese.
How to connect
- Use FileMaker Pro / Pro Advanced as the host and connect up to 5 other persons on a network. Or use FileMaker Server to securely share with larger groups from the clients of FileMaker Pro / Pro Advanced and FileMaker Go.
What's new in FileMaker Pro 14
Script Workspace: Create, edit, and view your scripts and calculations, even query commands all in one streamlined workspace to speed development time.
New Specify Calculation dialog box: Increase your productivity with auto-complete and search for calculation functions.
Launch Center: A new function in FileMaker 14. Represent your solutions with pre-designed or your custom icons. Just like opening your solutions on iPhone / iPad.
Button icons: Get 140 professionally designed icons that cover a wide variety of tasks to use in your buttons. Or use custom button icons.
Top and bottom navigation parts: Put these new top and bottom layout parts onto the navigation bar, so when you scroll through records, the navigation is always visible.
In-field labels: Add labels inside a field and use placeholder text or instructions to hint users what to type.
Object component styles: Design object styles such as pop-up menus, drop-down lists, and calendars. Change the color of radio buttons and checkbox sets.
Keychain: Save login credentials in Credential Manager in Windows just like you can with Keychain Access in OS X. Now you may save credentials for FileMaker solutions within the OS.
Enhanced Starter Solutions: Events and Projects are entirely redesigned in FileMaker 14. Try and get a whole new experience.
Reconnect to server: Possibly sometimes you lose your network connection or the server goes down. FileMaker Pro automatically reconnects to FileMaker Server when it's available again.
Layout badge tooltips: Display the tooltips icons in a clearer way. Help you to design layouts with objects much easier than ever before.
64-bit application: FileMaker Pro 14 is powered by 64-bit architecture, available for both Windows and OS X operating systems.
How to start ?
Now start your FileMaker experience from:
1. Trial download

2. Starter Solutions
Download the 30-day trial version and start to create your solutions with the Starter Solutions.
3. Tutorial trainings
We offer step-by-step trainings on how to design and develop with FileMaker. Take our 9-hour courses to get the key skills. Provided in three sessions.

4. Custom development
If you want to get a professional to customize your solutions, we are glad to help.

5. Software purchase:
You may also buy any FileMaker product from us. Please fill out the form below and get our reply within 24 hours.
Thank you for your cooperation.
Read also

Previous article
FileMaker 15 New Features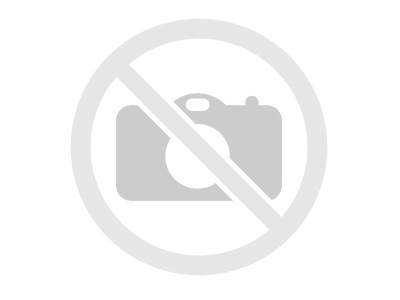 Next article
FileMaker 14 New Features